Get Started

Only send the Drone and Remote Controller.
DO NOT send batteries,props,cables,chargers,SD Cards etc, if not asked !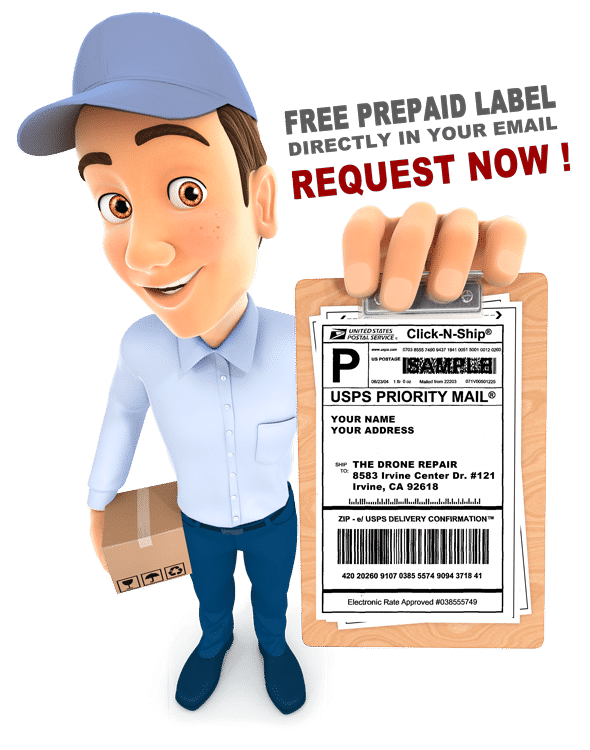 NOTE:  The Pre-Paid Shipping Label is active for 10 days from the time it is created.
Mail packages measuring more than 10 pounds weight and with dimensions longer than 12 inches are NOT Eligible for Free Pre-Paid Shipping Label.
Unfortunately, we are unable to offer a free pre-paid shipping label for Alaska, Hawaii, Puerto Rico and outside the continental United States.
SHIPPING INFO: We cover one way shipping only . Customer paying just for the return shipping. Shipment rates will be calculated by size, weight and destination. Usually for small size drones is $15 ( DJI Mavic Series) , for middle size drones is $25-45 (DJI Phantom Series) and for big drones is around $35-$65. ( DJI Inspire Series). Shipping Insurance is optional upon request and it will be an additional charge. We do shipping with USPS and UPS including a tracking number and signature required on delivery. 
International Shipping, please contact us.
Mail-In Address
THE DRONE REPAIR
8583 Irvine Center Dr. #121
Irvine, CA 92618
DJI Mavic 2 Pro / Zoom Repair
FREE DIAGNOSTICS | NO OBLIGATION QUOTE
Common Drone Problems Errors We Fix
Drone Won't Turn On

Drone Won't Take off

Drone Won't Connect To Controller

Drone Won't Update

Drone Camera Not Working

Gimbal motor overload

Gimbal flat ribbon cable

Camera Video PTZ cable

Broken Gimbal vibration mount

Broken arms and antennas

Connectivity issues with remote and DJI App

Vision system sensor errors calibrations

Video link and range issues

ESC Error

Compass Won't Calibrate

Shell Replacement Upper/MIddle

Software & Firmware Upgrades Errors Fix
Please use the SUBMIT A REPAIR REQUEST button to directly book a repair and Alternatively, if you have any questions feel free to contact us to discuss the repair that you require first.
Drone Models, We're Repair:
DJI Mavic / Pro / Pro Platinum / Pro 2 / Zoom / Mavic 3 Pro
DJI Mavic Air 1 , Mavic Air 2, Mavic Air 2s
DJI Mavic Mini 1 . Mini 2, Mini SE, Mini 3 pro
DJI Phantom 3 Std / Adv / Pro
DJI Phantom 4 Std/ Adv / Pro/ Pro + / Pro Obsidian
DJI Spark ( Discontinued )
DJI Inspire 1 /2 / RAW / PRO
DJI FPV
Please contact us for any models, not on this list
Securely package your item with the gimbal clamp in place (if applicable).
We require your Drone & Controller Only.
We don't require Batteries, Props, SD Card, Battery Charger, Micro USB Cables etc, please don't send these if not asked !
After the drone is received we'll run a diagnostic and call you back with timely and accurate estimates. Diagnostics can take up to 7 business days
notes:  Some of the diagnostics and repairs may take longer depending on the type of the damages and parts availability.
Upon approval, we'll repair your drone.
If you choose not to have it repaired, you simply pay for return shipping and we will send it back to you in the condition we received it in. The customer paying for return shipping!
After the repair is complete, we'll email you an invoice for easy and convenient online payment.
After the payment is cleared we ship the drone back to the customer. Shipment rates will be calculated by size, weight and destination. Usually for small size drones is $15 ( DJI Mavic Series) , for middle size drones is $25 (DJI Phantom Series) and for big drones is around $35-$55. ( DJI Inspire Series).
International Shipping, please contact us.
Valuable Feedback From Customers
Powered by Google

46 reviews on
Lavell Hunter
4. October, 2022.
Very knowledgeable about the drones and very respectable they'll be very much and I'm very much understanding and very to me and my family
These guys are great. Very knowledgable, honest and fair price for their work. They replaced my front cameras on my mavic, had the drone back to me in less than a week. Thanks
Matthew Jones
2. September, 2022.
I had the best experience from a human being teach me something I never know you can learn something but I didn't say this person deserve a 10 or 5 and everything else
Larry L
24. August, 2022.
My DJI Mini 2 tests out perfectly and I'm flying again! You guys are awesome and i'm so glad to have found you. You are great for out of warranty repairs, your pricing is fair, and you have great communication. I couldn't be happier. I will definitely contact you again if I need any future repairs. Background: I broke a rear arm on the Mini 2. DJI quoted almost the same price as a new drone since I'm out of warranty and I contacted 2 other repair shops that both suggested It's better to buy a new drone. There are no standalone drone replacements so I'm stuck with another $400-500 purchase. I was able to get it repaired by these guys for less than half the cost of a new drone! Their RMA process is super simple and they've answered every email for status updates in less that 24hrs during business hours. Excellent service!!
Trevor Sweaza
24. August, 2022.
I crashed my drone into a tree, and sent it in to Drone Repair from Hawaii. They communicated the entire time and had it back within 1week. Again, I'm in Hawaii, so with the shipping, diagnosis and repairs I'm really impressed and happy with the incredibly fast turnaround. I definitely recommend getting your drone repaired by these guys!
Great Services all around. Product came back working like brand new.
Celine Tan
25. April, 2022.
Thank you for fixing one of our drones. I recommend this business and would go to them again. They communicate well over email and know a good amount about drones & will explain to you.
Aich Domingiuez
20. April, 2022.
I broke my bosses drone & within 3 days of contacting the repair man, I had a fixed drone in my hand. The repair man was very professional & emailed me through each step process which was very helpful. I was in a rough time crunch & had the option to pick up/drop off my drone immediately, which was VERY HELPFUL. Definitely returning to his business.
Get Your Drone Mavic 2 Fixed Today!
Fast Turnaround | Best Prices | Professional Repair